Microdialysis probes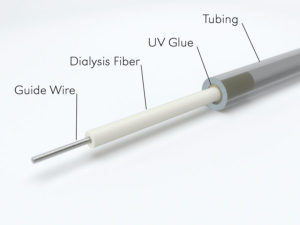 The EP probe is designed to collect small and large molecules from the extracellular space of different tissues. 
EP Probes are linear and consists of a semipermeable hollow fiber in which a stainless guide wire is inserted. The fiber is inserted and glued into a polyethylene tubing. All parts of the probe are medical grade.
EP Probes are available in three forms – EP Low, High & Ultra High Flux linear probes.
EP linear probes have several applications:
Studies of skin inflammation in basic research (4; 5; 7; 10; 13; 14; 15; 16; 18; 19; 20)
Studies of drug uptake (6; 8; 9)
Studies of drugs inducing allergic/allergy like reactions in skin (11; 12, 17; 18)
Ex vivo studies (2; 3;)
Skin microdialysis is an accepted method to be used in preclinical and clinical drug discovery as documented in the FDA initiated white paper (12) and an EAACI initiated position paper describing methods, applications and future opportunities of skin microdialysis (1).